The fastest way to grow your business with the leader in Transit MediaCheck out our outdoor options available.
India's most trusted Mobile van Advertisement Provider
Building Brands, Every Ride
The LorryZone offers mobile van advertising across India. We service more than 86 cities including Bangalore, Mumbai, Delhi, Chennai, Pune, Gurgaon, and Hyderabad.Contact us to know about our presence in your city.
Mobile Van Advertising delivers a strong message to your audience. Contact us to get your own targeted, cost-effective mobile van advertising campaign today.
Delivering long & lasting recall. Quick!
Mobile Van advertisement provide a great way for your brand communciation to spread out amongst the various different advertising mediums available in market. High Impressions , lasting impact, local and targeted advertising that works.
Mobile van advertising can help your brand:
Delivers a long lasting, visual impression of your Company
Cost effective in comparison to other media
Covers large number of audiences efficiently
target the local areas and markets as per your wish
develop brand awareness among targeted audience
convince your audience to follow and purchase in accordance.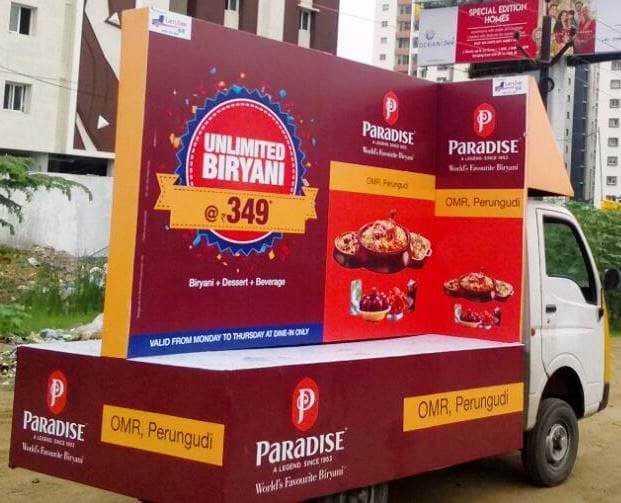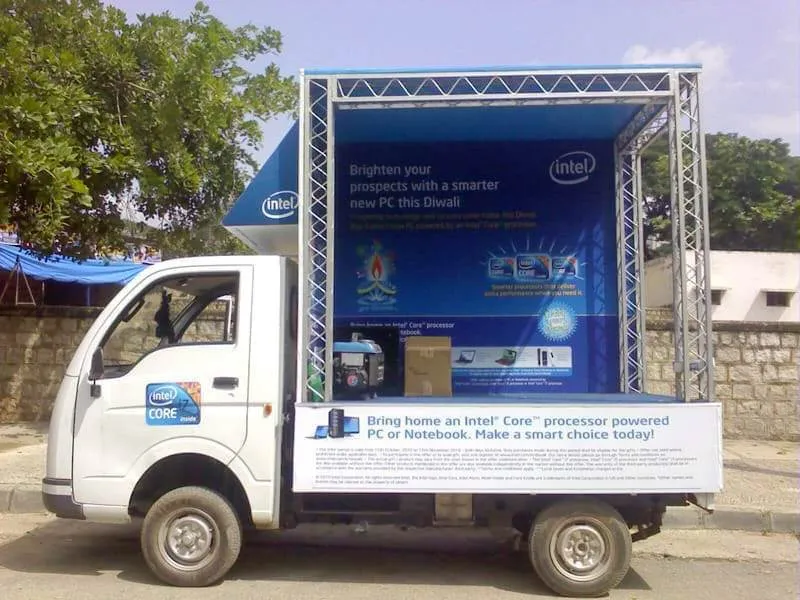 Result driven & Cost affordable advertising available in seconds
Initate your marketing campaign with the widest Mobile van available to hit the roads. Servicing India wide – Metro and Regional, we delivers your message, where and when you want it.
We have the experts to bring you desired results.
Your Brand Communication, at your desired time & location
In today's fast-moving world, people are taking messages differently. They want their brand message delivered quickly and efficiently.
A creative format with the key "Less is More" consume people's attention quickly and efficently.
Get Results
"According to a Survey,done by Outdoor Advertising Association of America, indicates that mobile vans are viewed by 95% of people who pass by them. That makes mobile van a perfect advertising medium to reach target audience on the go."
Mobile Van Advertising Options
"Many a small thing has been made large by the right kind of advertising." - Mark Twain
LorryZone gives you the ability to create, capture, analyze, and share customer conversations. This drives acquisition, increases sales, boosts customer loyalty, and reveals insights to improve your entire organization. These are the following Mobile Van Advertising options available.
---
Why use Mobile Vans?
Increase your brand awareness and exposure with cost effective & targeted advertising that delivers.
Mobile Van Advertising
With 97% recall rate, mobile van advertisement deliver a great return for your Investment.
Downlod Specs
Supply designs as high-res PDF or CDR with CMYK Colors, 5mm bleed,1:10 scale,300 DPI using sharing services such as Dropbox or Google Drive.
Contact Us
Get expectional benefits of mobile Van advertising before your competitor. Get in touch to find out avialblity & information.
We're not the only

excited

happy

about Mobile Van Advertising...