Mobile Van Advertisement in Ghaziabad
Mobile Van Advertisement in Ghaziabad
In today's fast-paced world, people are understanding messages differently. They want their information delivered quickly and efficiently and we have the expertise to ensure that your message is seen when and where you need it.We felt proud in saying that LorryZone has its mobile van advertisement services in Ghaziabad.
We have a goal to create a promising relationship with our customers that builds a connection, surpassing sheer commercial attention. For creative & effective communication is our life-breath, and every success of our client's is our own triumph.
Aircel- Mobile Van Advertising Ghaziabad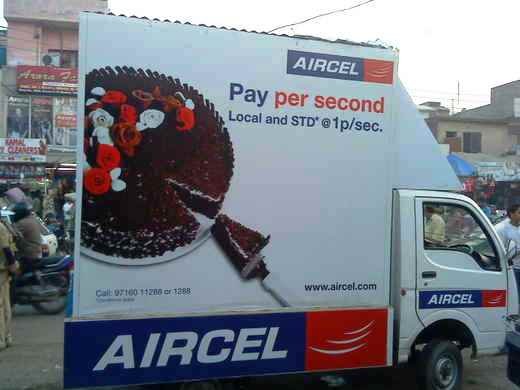 The company's unique promotional strategies helped it survive and grow in the highly competitive telecom sector. The company has aims for delivering quality services in the remotest corners of the city. With 100% mobile billboards, we were able to target people in the remotest locations. We utilised a simple message, and combined with the locational targeting, it was a huge hit, and the marketing campaign was a success.
Hero Motocorp- Mobile Van Advertising Ghaziabad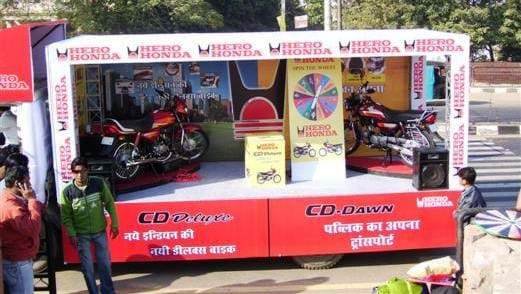 Hero Motocorp is a company that has the guts to implement its clever ideas into hard reality. This was achieved only because of the pure persistence of the company and its inclination towards technology that is of high-level quality. Hero Motocorp through Mobile Billboard campaigns wanted to focus on creating an emotional connection with all its viewers and customers. We at Lorryzone foresight to realize the aspirations of the customers and to anticipate the megatrends is a remarkable experience. We were able to target a significant amount of people, right in the area that they were selling to.
Castrol- Mobile Van Advertising Ghaziabad
A company always keeps in its mind the targeted audience for whom the product has been launched. People usually don't have a chance to look at the message for long, so we use bright colours to attract attention and simple ideas with just a few words for effective transit advertising so as to deliver the message to large audience, thereby, helping our customer to achieve great ROI.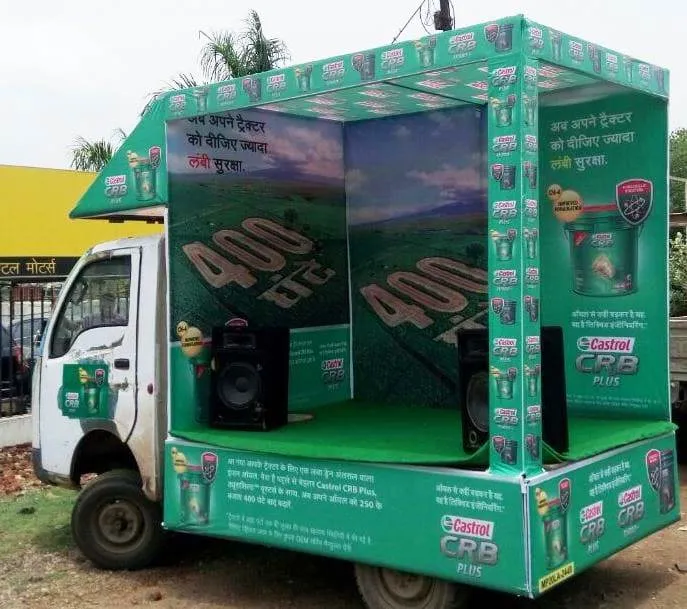 Take your idea to the next level.
If you have some idea? We have your advertising media. These are just some of the companies that have utilised our services in Kolkata and we have yet to see an unhappy customer. If you are looking for great customer experience, brand recall, awareness, and an overall great ROI look no further than us, Contact us today!
Benefits Of Mobile Van
One mobile van can be present at multiple location at different So can serve different location as per client & clintele. For more details, Refer Below Links:
Tags
|
Roadshow Promotional Van in Ghaziabad
|
Road Show Promotional Van in Ghaziabad
|
Promotional Van in Ghaziabad
|
Mobile Promotional Van in Ghaziabad
|
Mobile Led Promotional Van in Ghaziabad
|
Display Advertising Van in Ghaziabad
|
Tata Ace Promotional Van / Float Van For Rent in Ghaziabad
|
Advertising Van Coach in Ghaziabad
|
Demo Advertising Van in Ghaziabad
|
Mobile Led Advertising Van in Ghaziabad
|
Led Advertising Van in Ghaziabad
|
Advertising Van On Rent Service in Ghaziabad
|
Mobile Advertising Vehicle in Ghaziabad
|
Road Show Promotion Van in Ghaziabad
|
Promotional Mobile Vans in Ghaziabad
|
Advertisement Van in Ghaziabad
|
Demo Van in Ghaziabad
|
Advertising Van in Ghaziabad
|
Led Mobile Advertising Display Van in Ghaziabad
|
Mobile Advertisement Van in Ghaziabad
|
Promotional Van Services in Ghaziabad
|
E Rickshaw Led Van , Road Show Led Promotional Van On Rent in Ghaziabad
|
Exhibition Advertising Vans in Ghaziabad
|
Mobile Advertising Campaigning Van in Ghaziabad
|
Mobile Advertising Van in Ghaziabad
|
Advertising Mobile Van On in Ghaziabad
|
Portable Mobile Display Van in Ghaziabad
|
Led Display Advertising Mobile Van in Ghaziabad
|
Led Video Advertising Mobile Van in Ghaziabad
|
Outdoor Advertising Led Van in Ghaziabad
|
Mini Advertising Van in Ghaziabad
|
Mobile Van Biggest/ Truck-Mount/ Tata Ace Led Sceen in Ghaziabad
|
Mobile Hydraulic Advertising Vans in Ghaziabad
|
Promotional Vans in Ghaziabad
|
Led Screen Mobile Advertising Van For Promotions in Ghaziabad
|
Lcd Mobile Van On Rent in Ghaziabad
|
Led Van Promotions in Ghaziabad
|
Campaigns Van in Ghaziabad
|
Eicher Canter Advertising Van in Ghaziabad
|
Mobile Billboard Vans in Ghaziabad
|
Advertising Mobile Van Branding Service in Ghaziabad
|
Tata Ace Advertising Van in Ghaziabad
|
Advertising Mobile Van in Ghaziabad
|
Advertising Video Van in Ghaziabad
|
Mobile Advertising Van With Led Display Panel in Ghaziabad
|
Roadshow, Promotional Van in Ghaziabad
|
Promotional Van On Rent in Ghaziabad
|
Led Advertising Display Van in Ghaziabad