Mobile Van Advertisement in Pune
Mobile Van Advertisement in Pune
Got a concept? We have your advertising solution. At Lorryzone Company, we provide advertising services all across Pune. When utilising Mobile Van advertisements, you can spot exactly where your potential customers are coming from, and you don't waste your media budget by advertising in areas not relevant to your business.
Our services are not limited to Pune or Mumbai but complete length and breadth of Maharashtra covering major cities such as Nagpur, Nashik, Vasai-Virar, Aurangabad, Solapur, Bhiwandi, Amravati, Malegaon, Kolhapur, Nanded. So Feel excited about our presence near to you & your clients and book you mobile van now to see the difference in brand awarness along with revenue.
These are just some of the companies that have utilised our services throughout Pune city. We pride ourselves in our ability to launch successful campaigns, and our results speak for themselves.
Tanishq - Mobile Van advertising Pune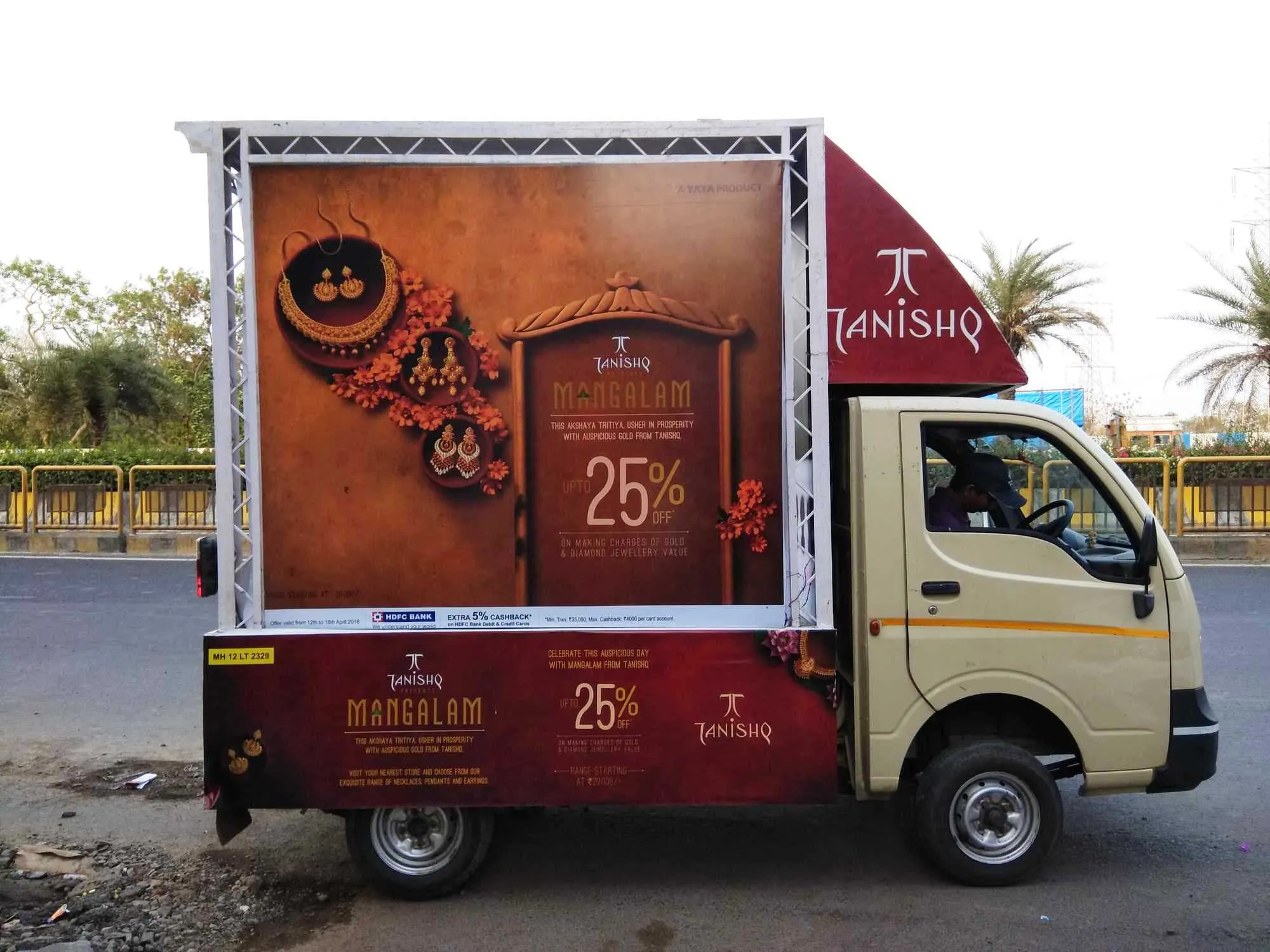 We feel thrilled to report the success of yet another Mobile Van advertising campaigns of Tanishq in Pune. Using their locational messages, we successfully got the message out and had some heads turning.
More people leads to more money and Tanishq is another example of how a simple yet effective Mobile Display Van can drive traffic and conversions. We are certainly looking forward to working with them again!
Cholamandalam MS General Insurance- Mobile Van Advertising Pune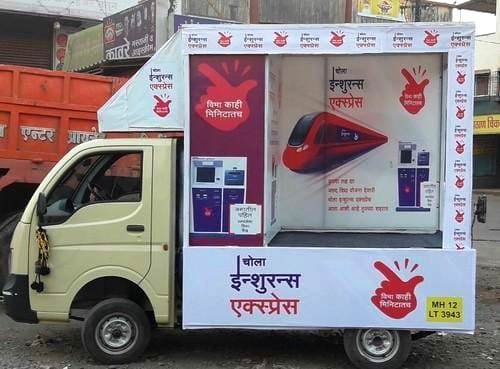 Cholamandalam MS General Insurance focuses on aggressive promotion strategy in its marketing mix. It depicts strong bond between the customers and the brand that has significant relationship developed over the years. We were asked to make an impact and in short – the Mobile Van Advertisements were asked to cover off most of Pune and to do it with flare. The artwork was large, clear and impacting and the message was simple. When the advertising skins were installed on the Mobile Vans – they really stood out and created a massive advertising impact amongst the audiences.
Airtel- Mobile Van advertising in Pune
Mobile Van Carrying advertisement circulating all through Pune city to promote the "Airtel 4G challenge" – Targeting younger and middle aged demographics and heading in to all the areas that no other traditional media could reach. We ensured the message was clearly visible, and had people literally turning heads. We love seeing clients get a great ROI on their business, because not only is it good for them, it's good for us.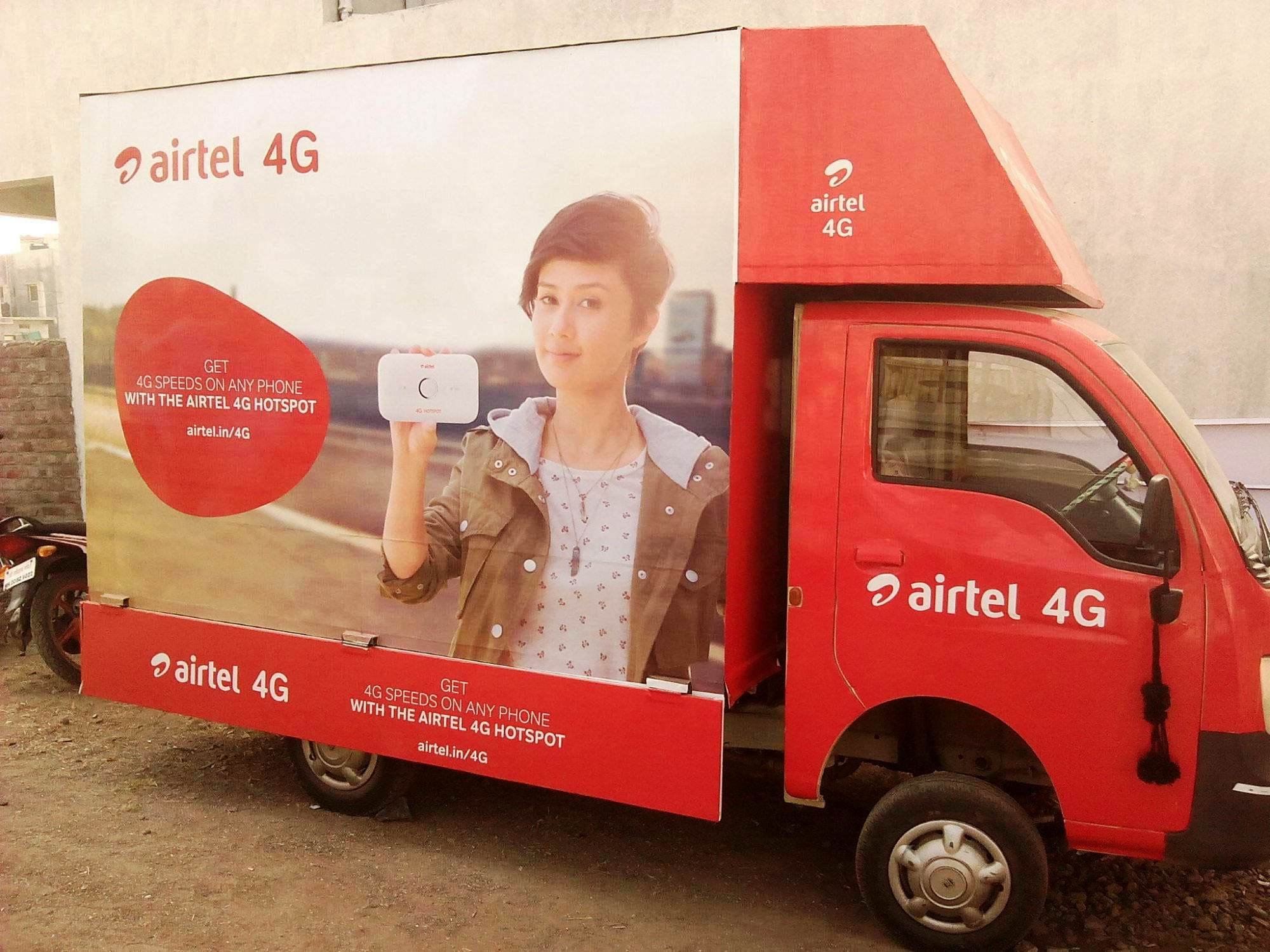 Take your idea to the next level.
If you have some idea? We have your advertising media. These are just some of the companies that have utilised our services in Pune and we have yet to see an unhappy customer. If you are looking for great customer experience, brand recall, awareness, and an overall great ROI look no further than us, Contact us today!