Mobile Van Advertisement in Lucknow
Mobile Van Advertisement in Lucknow
The outdoor advertising mediums travel huge distance per day and display the ads on Mobile van to the crowd of thousands across the different states, cities, towns. We feel ecstatic to be the providers of advertising solutions for Mobile Van Advertisement in Lucknow.
We are successful in creating a swift and enduring impression on the minds of some upscale people. From specially-designed three-wheelers or trucks that carry ads of companies to radio cabs that come draped in the united colors of their sponsors, we have covered almost every inch of space on the 'moving media'.
Following are the some sucessful campaigns delivered by LorryZone for our beloved Clients.
The Raymond Shop- Mobile Van Advertising Lucknow
Raymond is a very superior and goal oriented brand with enormous stores located all across the country. After talking much about 'The Complete Man' for decades, Raymond decided to shift the focus on promoting their retail chain- The Raymond Shop, not only through TV commercials but also through mobile van advertisements. They came up with an idea and we provided them the media to showcase and promote the complete wardrobe range of casuals, smart casuals, formals and tailoring services, offered through various group brands under one roof at The Raymond Shop. We helped them reach out to the audience with a bang and left no stone unturned by reaching out to areas across the city wherever stores had opened, targeting residents in that geolocation and making them aware of the stores opening.
IDEA - Mobile Van Advertisement Lucknow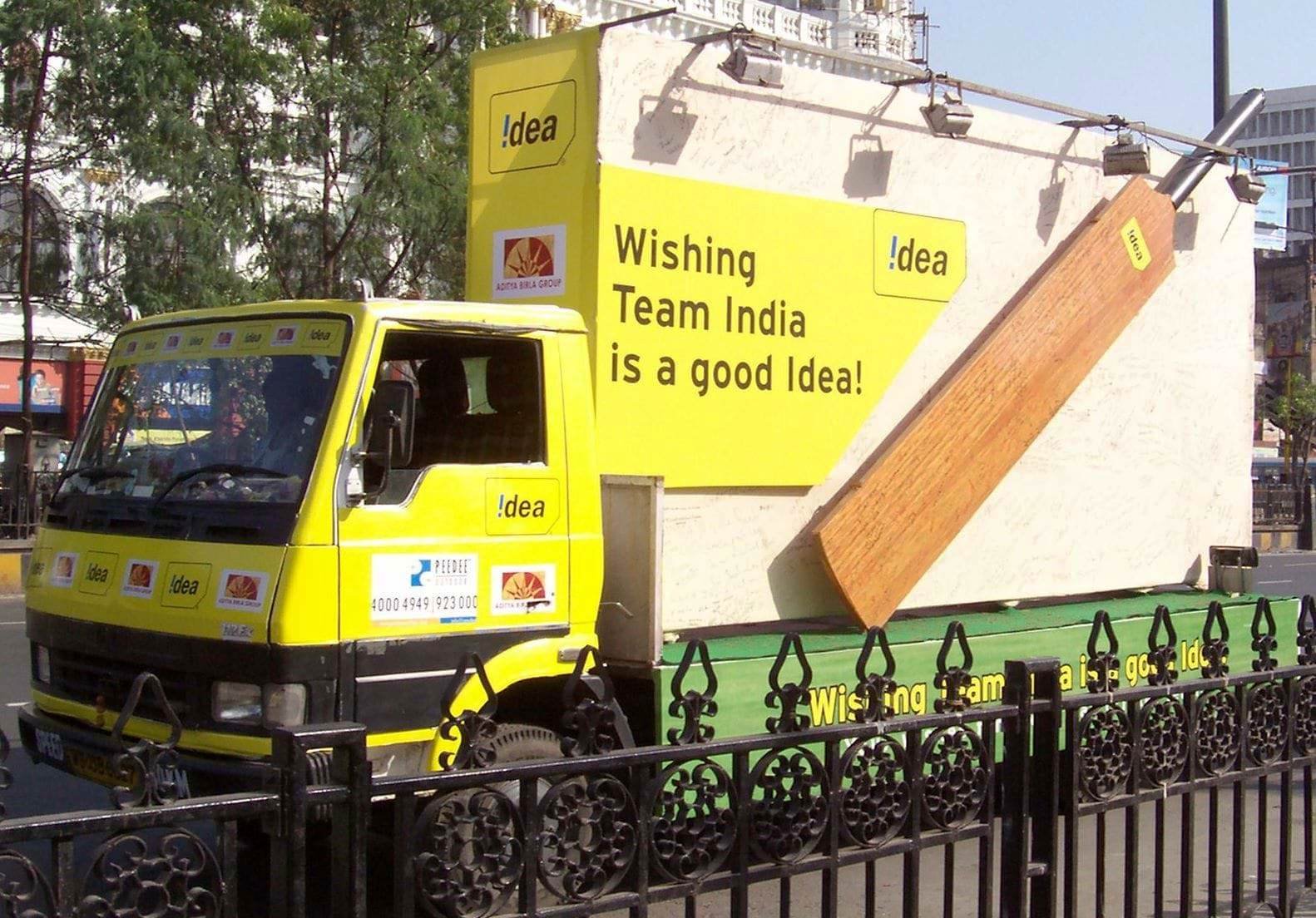 IDEA cellular company came up with an idea to echo the concept of Government(s) using mobile service as an efficient tool to gather public opinion and support, while taking vital decisions influencing people's lives. We were elated to be chosen as media partners for conveying this socially relevant message in an easy-to-understand form to their targeted audience, which mainly comprises of mobile users, intenders and youth.
Benefits Of Mobile Van
One mobile van can be present at multiple location at different So can serve different location as per client & clintele. For more details, Refer Below Links:
Mobile Van Advertisement Lucknow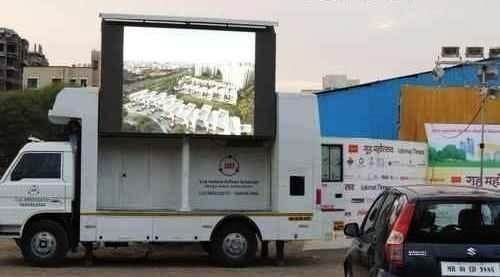 Sahara Estate is a residential property located in Gomti Nagar amidst greenery, overlooking a landscaped park and is accessible from all parts of the Lucknow. We as media partners, through mobile van advertisement across the city, were able to turn heads, thereby, helping them eco regarding the benefits of the infrastructure developments happening in Lucknow city especially when it comes to respite from long commutes.
Reliance - Mobile Van Advertisement Lucknow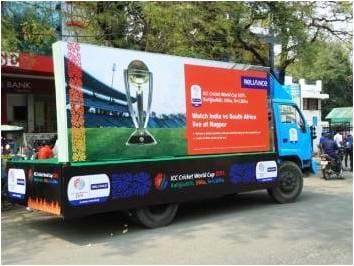 India's largest telecom operator Reliance India rolled out its next-generation high-speed 4G LTE network across Lucknow telecom circle. Using our mobile van advertising service, Reliance was able to extensively spread out their word and attract all kinds of customers in large number who might have otherwise missed the TV ads but still be looking for a up gradation in their existing Reliance network or other network with a high speed internet.
Take your idea to the next level.
If you have some idea? We have your advertising media. These are just some of the companies that have utilised our services in Lucknow and we have yet to see an unhappy customer. If you are looking for great customer experience, brand recall, awareness, and an overall great ROI look no further than us, Contact us today!
Tags
|
Roadshow Promotional Van in Lucknow
|
Road Show Promotional Van in Lucknow
|
Promotional Van in Lucknow
|
Mobile Promotional Van in Lucknow
|
Mobile Led Promotional Van in Lucknow
|
Display Advertising Van in Lucknow
|
Tata Ace Promotional Van / Float Van For Rent in Lucknow
|
Advertising Van Coach in Lucknow
|
Demo Advertising Van in Lucknow
|
Mobile Led Advertising Van in Lucknow
|
Led Advertising Van in Lucknow
|
Advertising Van On Rent Service in Lucknow
|
Mobile Advertising Vehicle in Lucknow
|
Road Show Promotion Van in Lucknow
|
Promotional Mobile Vans in Lucknow
|
Advertisement Van in Lucknow
|
Demo Van in Lucknow
|
Advertising Van in Lucknow
|
Led Mobile Advertising Display Van in Lucknow
|
Mobile Advertisement Van in Lucknow
|
Promotional Van Services in Lucknow
|
E Rickshaw Led Van , Road Show Led Promotional Van On Rent in Lucknow
|
Exhibition Advertising Vans in Lucknow
|
Mobile Advertising Campaigning Van in Lucknow
|
Mobile Advertising Van in Lucknow
|
Advertising Mobile Van On in Lucknow
|
Portable Mobile Display Van in Lucknow
|
Led Display Advertising Mobile Van in Lucknow
|
Led Video Advertising Mobile Van in Lucknow
|
Outdoor Advertising Led Van in Lucknow
|
Mini Advertising Van in Lucknow
|
Mobile Van Biggest/ Truck-Mount/ Tata Ace Led Sceen in Lucknow
|
Mobile Hydraulic Advertising Vans in Lucknow
|
Promotional Vans in Lucknow
|
Led Screen Mobile Advertising Van For Promotions in Lucknow
|
Lcd Mobile Van On Rent in Lucknow
|
Led Van Promotions in Lucknow
|
Campaigns Van in Lucknow
|
Eicher Canter Advertising Van in Lucknow
|
Mobile Billboard Vans in Lucknow
|
Advertising Mobile Van Branding Service in Lucknow
|
Tata Ace Advertising Van in Lucknow
|
Advertising Mobile Van in Lucknow
|
Advertising Video Van in Lucknow
|
Mobile Advertising Van With Led Display Panel in Lucknow
|
Roadshow, Promotional Van in Lucknow
|
Promotional Van On Rent in Lucknow
|
Led Advertising Display Van in Lucknow