Auto Advertisement in Ahmedabad
Auto Advertisement in Ahmedabad
Matching with the changing and ever-growing needs of customers, we are engaged in providing Auto Advertising Service. Our services are treasured by top most brands and that too at very reasonable rates around. This service is used for voting, companies and many more for advertisement purposes. We provide this service due to its effectiveness in the business. We are also very punctual in delivering the committed work. Below we talk about few top brands we have worked with in Ahmedabad.
Not only Ahmedabad, but we provide Auto Advertisement services in other major cities of Gujrat like Surat,Vadodara,Rajkot,Bhavnagar,Jamnagar and so on..
Our media is 100% mobile,that provides our clients a completely unrestricted and flexible opportunity to reach all the locations.
Fortune- Auto Advertising in Ahmedabad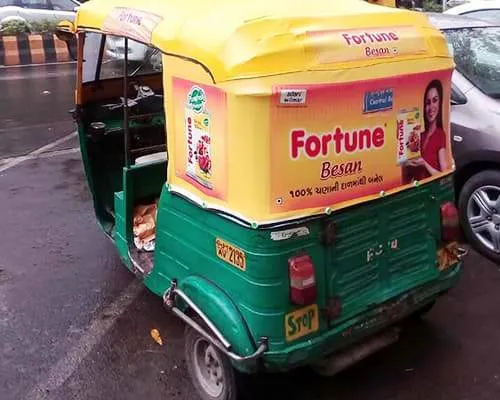 Fortune has adopted an intensive marketing strategy because it realises the advertising power on consumer mindset. Its campaigns are advertised via, magazines, newspapers, television, billboards and social media to attract maximum brand vulnerability. We as their trusted media partners helped them to launch successful campaigns, and the results speak for themselves. The brand has been established and doing well in their business.
7up - Auto Advertising in Ahmedabad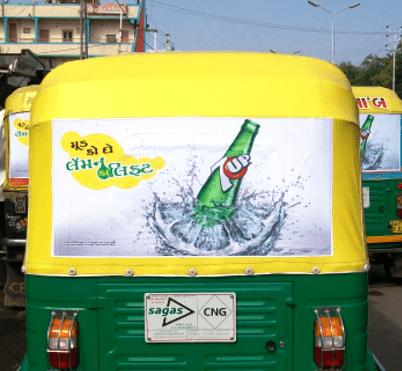 Get inspired to mix it up a little with 7UP! Crisp and refreshing, it mixes into into all kinds of drinks, cocktails, punches, baked goods and much more. The 100% natural flavours brand with its iconic lemon flavour chose auto advertising to market themselves at the street corners which is very apt for inducing thirst for the drink in the minds of the people on their way.
The clever and intelligent strategy was adopted by them and implemented by us and together it has done wonders.
UrbanClap - Auto Advertising in Ahmedabad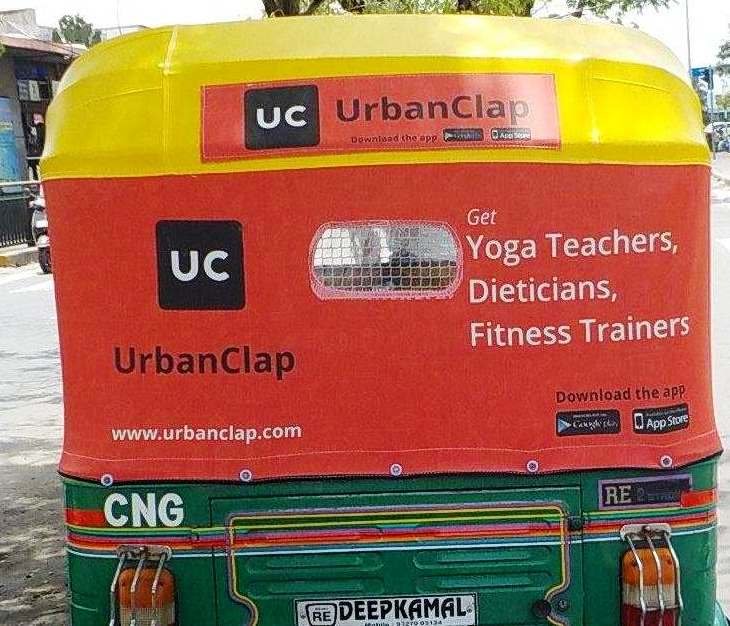 A trusted home services brand, UrbanClap, that makes everyday things easier for them came to us for their promotion strategies and we made their work easier with our services of auto advertising which later proved very effective and helpful for the brand.
We were delighted to work with such joyous customers as UrbanClap themselves.
Titan eyeplus - Auto Advertising in Ahmedabad
We collaborated with Titan, for their eyewear collection in auto advertisements. The advertisement was designed to create a buzz about the company and as a promotional activity, Titan eyefuls gave a 40 percent discount on their products. The advertisement was designed for the upper- back part of the auto. This was doe so that the advertisement was at the eye level of the person who was at the vehicle behind the auto or standing behind the auto. Titan was more than happy with our work as we helped them reach wide audience in Ahmedabad.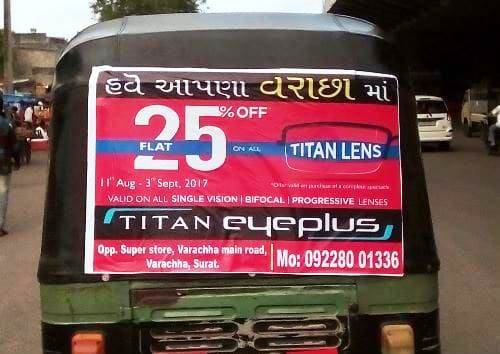 Domino's - Auto Advertising in Ahmedabad
Everybody knows Domino's and everybody loves Domino's. The market leader of the pizza industry came to us for an auto advertisement for their new flavour of peppy paneer. Carefully created for all paneer lovers and to tingle your taste buds, we decided to put a big picture of the pizza on the advertisement with minimal typography. The idea behind this was to make the customers maintain their attention at the pizza with minimal distraction.
Domino's was happy and content with our work and we were happy to have with such a well known brand.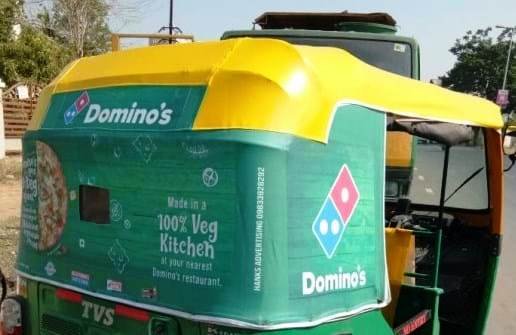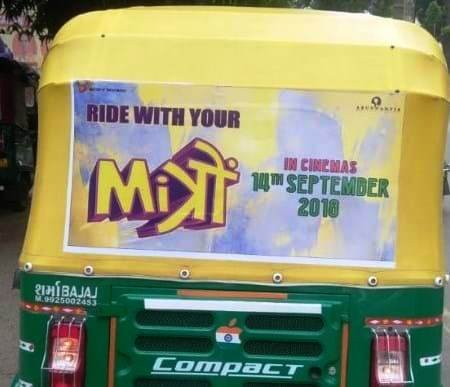 Take your idea to the next level.
If you have some idea? We have your advertising media. These are just some of the companies that have utilized our services in Ahmedabad and we have yet to see an unhappy customer. If you are looking for great customer experience, brand recall, awareness, and an overall great ROI look no further than us, Contact us today!