Auto Advertisement in Ghaziabad
Auto Advertisement in Ghaziabad
We understand how important gaining a substantial customer base is for a firm. To provide with the same promote your brand extensively and effectively through various startegies out of which one is auto advertising. We provide quality work with punctuality to make our clients happy. Below we talk about few top brands we have worked with in Ghaziabad.
Not only Ghaziabad, but we provide Auto Advertisement services in other major cities of Uttar Pradesh like Lucknow, Kanpur, Agra, Meerut, Varanasi, Allahabad, Bareilly, Aligarh, Saharanpur, Gorakhpur, Noida and so on..
LIC - Auto Advertising in Ghaziabad
Life insurance company like LIC make sure, that they cover for the person in their difficult times. Similarly, we make sure that we have you covered in your difficult times and help regain the platform for the brand. And for such a policy to be advertised to the public, for people to be Able to take care of themselves and their family, we put our best foot forward, the auto advertising which helped spread the news in urban and rural areas both.
Working with companies which help people makes us work harder and better.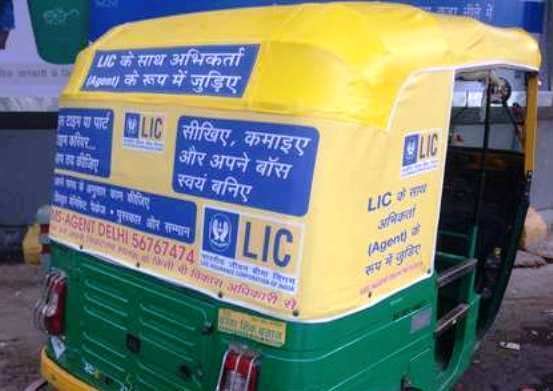 Netmeds- Auto Advertising in Ghaziabad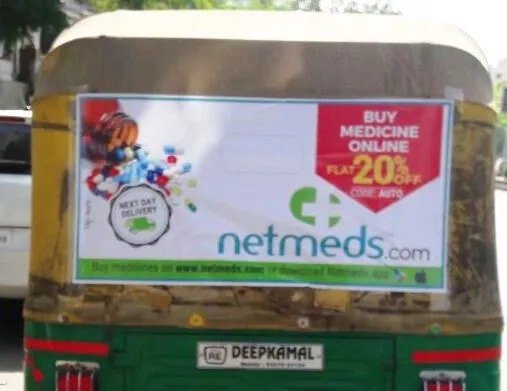 ?Next day delivery? with 20% discounts. This is exactly what people need in medicines where the rates are so high that a normal middle class man also looks for 5 to 10% discounts that shops give but none gives 20%. This is a huge thing to market and this is what nedmeds did for letting people know of the special deals they provide at your doorstep. They chose auto advertising which turned out really successful for the brand.
Havells - Auto Advertising in Ghaziabad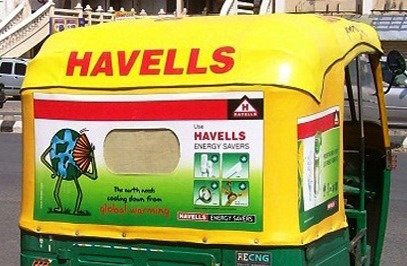 Global warming a cause we must all work to help. Taking this issue as their newest campaign, Havells decided to promote via auto advertisements in Ghaziabad. Targeting the issue which needs our immediate attention, Havells came up with a new product line which very efficient and used less energy. We helped havells reach a mass audience through aggressive promotions using auto advertisements and we have one more happy client in our list.
Vodafone - Auto Advertising in Ghaziabad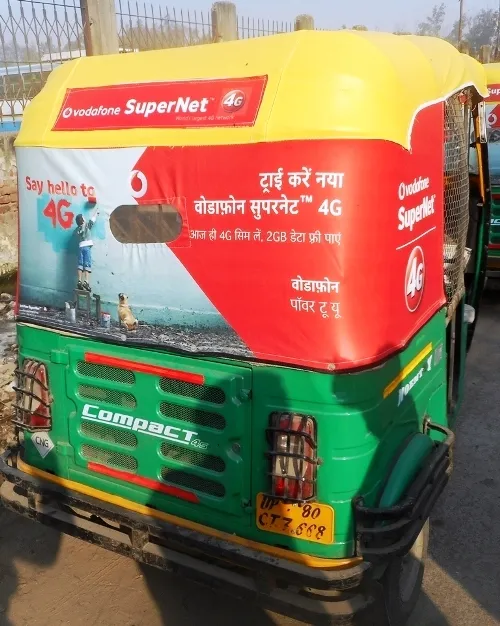 Highlighting the worlds largest 4g network, Vodafone adopted auto advertising to establish themselves as the largest in the country and letting that fact known and established in the minds of people of India. Vodafone advertised in various towns one of them being Ghaziabad. Auto advertising turned into their advantage and the company successfully made better sales in 4g network.
Kissan - Auto Advertising in Ghaziabad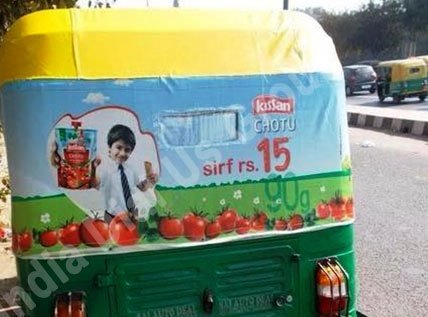 Kissan a brand in every household wanted to advertise their Chotu pack which costed only rupees 15. Utilising our Mobile Van Advertisements in Ghaziabad, they were able to target a significant amount of people, from all age groups. We provided them with continuous evaluation of campaign performance and audience reaction, allowing them to execute relevant communications and meet key objectives.
Take your idea to the next level.
If you have some idea? We have your advertising media. These are just some of the companies that have utilized our services in Ghaziabad and we have yet to see an unhappy customer. If you are looking for great customer experience, brand recall, awareness, and an overall great ROI look no further than us, Contact us today!