Auto Advertisement in Indore
Auto Advertisement in Indore
We take the responsibility of building a brand by spreading it to areas where it gets the undivided attention of the masses, which in turn helps the brand achieve its goals and success. We promise to deliver our work on time and with utmost quality one can offer. We believe in building you. We care about you!
Not only Indore, but we provide Auto Advertisement services in other major cities of Madhya Pradesh like Bhopal,Jabalpur,Gwalior and so on..
Our media is 100% mobile,that provides our clients a completely unrestricted and flexible opportunity to reach all the locations.
Ashirwad - Auto Advertising in Indore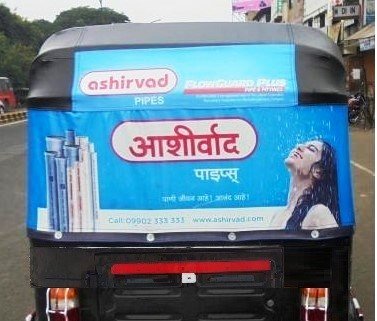 We all know the famous Ashirwad Atta but not many have heard about Ashirwad pipes. They have a huge business in Madhya Pradesh and many more places. They approached us to raise the awareness of the brand among other businesses and we adviced them for auto advertising and the results were beyond our expectations.
We are proud to have been associated with them and look forward to more of such opportunities.
Astral - Auto Advertising in Indore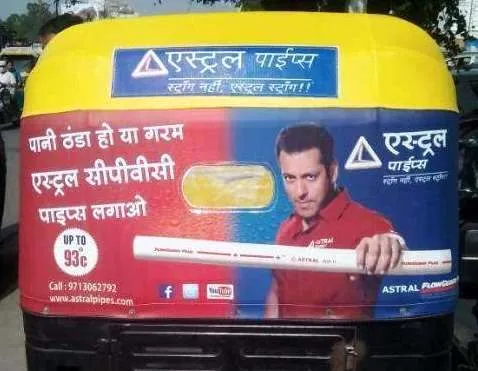 Astral pipes that can tolerate hot and cold water up to 93 degree Celsius of temperature. With the face of the brand being Salman Khan its easier to pull the attention and there was nothing better than auto advertising for the company.
B-tex Auto Advertising in Indore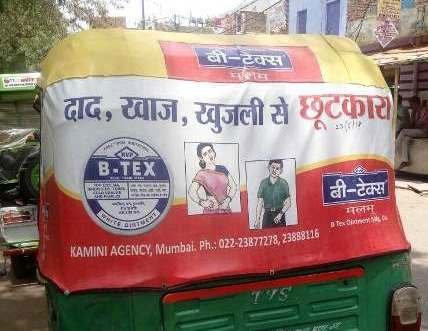 We have all faced problems with allergies and itching and b-tex has been one of the oldest companies helping us out. They approached us to regain the market to their product. Since in the new age were shifting to newer products and medicines.
We provided them with our best auto advertising which not only is the the urban towns but also covers a major portion of the rural population.
Bharat - Auto Advertising in Indore
Getting better furniture at best prices is now possible through Bharat. Where we advertised them on auto. Such great products at lowest rates is what India deserves and demands. We link India to such great deals and be the intermediate to both parties and helps both company and customer to be one step ahead.
Prism - Auto Advertising in Indore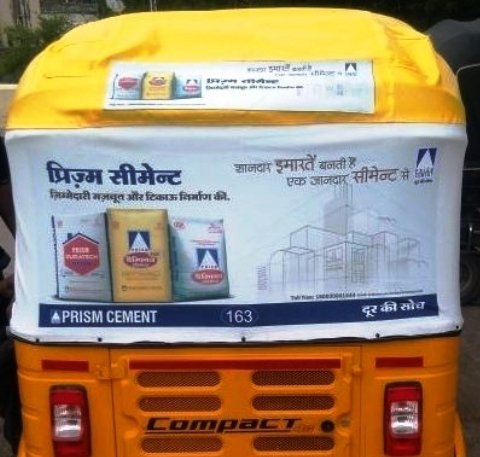 Bsnl- Auto Advertising in Indore
BSNL the network of India, the all round roaming free network gave more exciting offers such as 339 rupees offer and get 2gb data free. There is no better news than this. And we wanted to help Bsnl reach this amazing offer to the public and therefore chose auto advertising. Companies like these makes us proud to have worked with them.
We look forward to working with them.
Miraj - Auto Advertising in Indore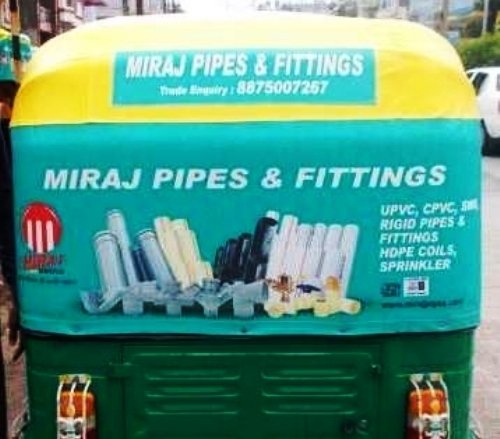 Take your idea to the next level.
If you have some idea? We have your advertising media. These are just some of the companies that have utilized our services in Indore and we have yet to see an unhappy customer. If you are looking for great customer experience, brand recall, awareness, and an overall great ROI look no further than us, Contact us today!