Auto Advertisement in Pune
Auto Advertisement in Pune
Taking new and innovative ways to promote a brand, we now provide auto advertising feature as a promotional activity to target mass customers. We deliver excellent quality work tailored to your brand specifications. We are also very punctual in delivering the committed work. Below we talk about few top brands we have worked with in Pune.
Not only Pune, but we provide Auto Advertisement services in other major cities of Maharastra like Nagpur,Nashik,Vasai-Virar,Aurangabad and so on..
Godrej - Auto Advertising in Pune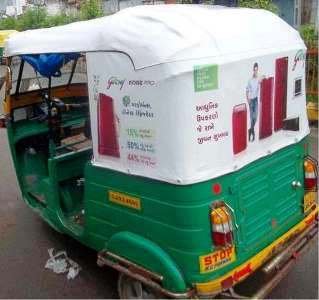 We had the opportunity of working with Godrej to exemplify their new range of refrigerators and washing machine in an all new cherry colour. We helped them hit the right target of customers by hitting the streets and thereby giving Godrej a great return on investment.
We are proud to have been associated with them and look forward to. Ore such opportunities.
Airtel - Auto Advertising in Pune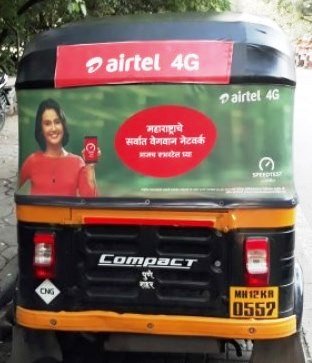 Airtel came to us to help launch a new internet plan advertising campaign that saw the launch of new offers for the festive season. We helped them hit the most busy places in Noida and went where no static billboard could, targeting residents in that geolocation and making them aware of the stores opening.
We were delighted to see that the newly opened stores popularity rose and we love it when we see clients tell us about the great ROI that they have received.
MyBasket- Auto Advertising in Pune
The brilliant plan of delivering groceries at your doorstep. One can access all their requirements with just one click and have all their needs at their desired time. The company chose us to market their idea and make it approachable to people.
We had a wonderful experience working with ask me grocery! We look forward to working with them again.
Sonata - Auto Advertising in Pune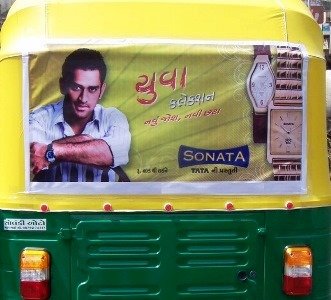 Sonata, the strong, affordable and reliable brand chose someone that goes well with the brand image - M.S.DHONI and we helped him appear in almost all the auto backs of the city. With our services the company did a even better job and the word spread around faster than any other static advertisement which could not reach all the areas of the city. We made it possible and looking forward to working with them for various more coming projects.
Ashirwad Pipes - Auto Advertising in Pune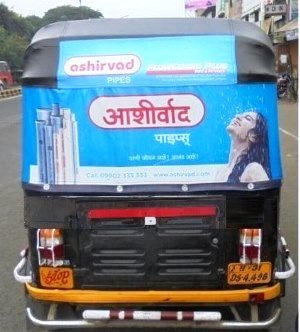 With all the popular companies we have worked with there was one which was super eco friendly and 100% recyclable. They had their head set onto their goals. We respect such aspirations and nature friendly people and to contribute our very bit we helped them advertise themselves on auto advertising which spreads their message loud and clear on the streets out there.
Take your idea to the next level.
If you have some idea? We have your advertising media. These are just some of the companies that have utilized our services in Pune and we have yet to see an unhappy customer. If you are looking for great customer experience, brand recall, awareness, and an overall great ROI look no further than us, Contact us today!