Auto Advertisement in Bangalore
Auto Advertisement in Bangalore
We provide Auto Advertising Service as a means of promotional activity for your brand. We customize the advertisement according to your brand identity and the message that has to be communicated to the potential customer. We provide this service due to its effectiveness in the business. We are also very punctual in delivering the committed work. Below we talk about few top brands we have worked with in Bangalore.
Not only Bangalore, but we provide Auto Advertisement services in other major cities of Karnataka like Hubballi, Dharwad, Mysore, Gulbarga, Mangalore, Belgaum, Davanagere, Bellary and so on..
Our media is 100% mobile,that provides our clients a completely unrestricted and flexible opportunity to reach all the locations.
Medlife - Auto Advertising in Bangalore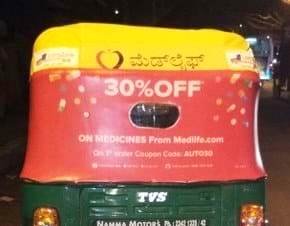 Ever stuck in pain on the road or saw someone in pain and just saw an auto pass by with the Medlife advertisement with their number on the auto. if it were not because of auto advertising it wouldn't have been possible to get an instant delivery any place you want. Medicines which are important and essential especially for people in their old ages prefer being at home and most times all they require are their medicines on Time. And auto advertising delivers medicines by delivering the message safely to them.
To the people in need. Don't stop looking at the auto's you'll soon find the right one!
FoodPanda- Auto Advertising in Bangalore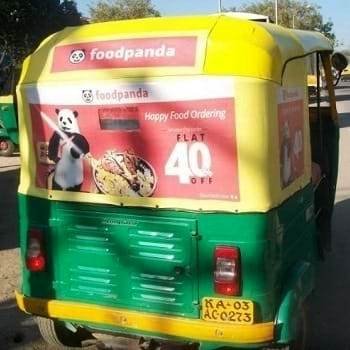 Who doesn't love food and life has only been getting easier in the 21st century and considering the food industry that has been booming with orders more than ever before because of companies like Food Panda that take up the responsibility of getting your food to you without you even moving from your house. We salute to such ideas and promote these by contributing our very bit of making the idea a successful one by promoting it on the auto's.
Cashify - Auto Advertising in Bangalore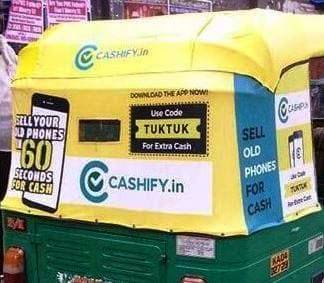 Cashify, is a brand that does excellent work of providing instant cash in exchange of old electronics and devices like laptops, washing machines etc at your door step. The fairly new website, with such a unique concept that appealing needed an advertising that would help reach the maximum masses while being cost effective.
We suggested them the ultimate auto advertising that helped the brand get a recognition and stand out from the many.
Revital - Auto Advertising in Bangalore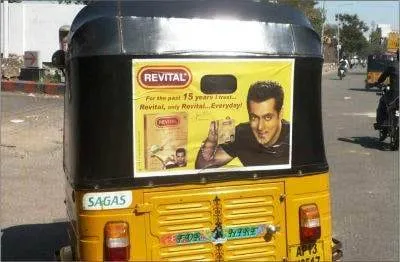 The famous pharmaceutical company of India came to us for its promotions in Bangalore by availing our auto advertising services. Revital had a celebrity endorsement by Salman khan, which we replicated on our auto advertisement to attract more customers and choose the regional language to connect more with the customers.
Revital left as very happy customers and became another example of a simple idea walking away with a great ROI.
Uber - Auto Advertising in Bangalore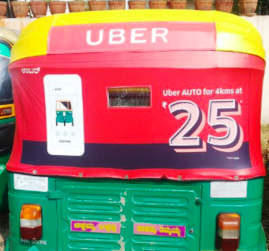 The largest cab service company in the world, Uber came to us for an auto advertisement about their introduction of Uber auto services. We helped with the promotions and got an overall positive response with more and more customers using the Uber auto feature.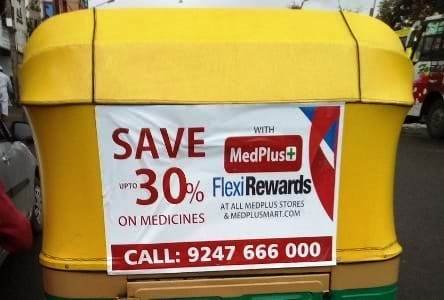 Take your idea to the next level.
If you have some idea? We have your advertising media. These are just some of the companies that have utilized our services in Bangalore and we have yet to see an unhappy customer. If you are looking for great customer experience, brand recall, awareness, and an overall great ROI look no further than us, Contact us today!